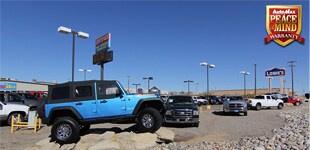 About Automax Truck & Car Center, Conveniently Located in Farmington, New Mexico
With over 200 vehicles in inventory, and access to 1000 others at all times, AutoMax is the LEADING pre-owned vehicle dealership in the Farmington, NM region. We offer a unique buying experience, in that we care deeply about our Customers' and their purchases.
AutoMax in Farmington, NM employs over 15 full-time Sales Professionals, in order to assist the thousands of customers that we serve each year.
AutoMax is one of the most trusted names in auto sales in New Mexico, in part due to our Peace of Mind Warranty (a better warranty that CarMax) and unparalleled customer satisfaction.
We offer TRUE one-stop shopping experience, assisting each of our customers with Financing Options, Shipping Options, Trade-In Values and Warranty Options.
We only sell the very best vehicles at AutoMax. In fact, we put every vehicle through a thorough 135 point inspection, and only the BEST vehicles make our lot. Once we purchase a vehicle, we spend an average of 15 hours reconditioning it.
Why AutoMax is The Right Choice For You
Automax Auto Superstore, located at 5220 East Main Street Farmington, New Mexico is happy to tell you that we've been serving the Albuquerque, Durango, Cortez, and Gallup area for longer than many of you might have owned your current car. With those years comes invaluable expertise, which we put to your advantage.
AutoMax caters to customers looking for EVERY kind of vehicle, rather than just a single make or year model. We have virtually every make and model on our car lot every day so that you can test-drive a Toyota, Honda, Kia, & GMC all at the same place. And if we don't have it here, we have access to 1000+ vehicles throughout our various locations which we can have shipped here within 1-2 days.
If we don't have the Ford, Nissan, Dodge, Chevrolet, RAM and Chrysler models you're looking for, we'll get them for you, quickly! Keep in mind that not only do we have these vehicles in stock, but we can also set you up with Ford, Nissan, Dodge, Chevrolet, RAM and Chrysler financing options (as well as all other makes and models).
The AutoMax Team
We hand pick each member of the Automax Truck & Car Center team for their high level of competency, vast knowledge base, eagerness to learn late-breaking technology, ability to relate to drivers from all walks of life, and commitment to keeping Automax Auto Superstore a pressure-free environment, which if you ask many of our patrons, makes us a dealership in the rough.
Of course the best way to see for yourself the distinct experience you'll have at Automax Auto Superstore is to explore our used Ford, Nissan, Dodge, Chevrolet, RAM and Chrysler models; and learn about our financing in person, at 5220 East Main Street Farmington, New Mexico.